http://transitionculture.org/shop/the-transition-companion/
"The Transition Companion: making your community more resilient in uncertain times" by Rob Hopkins
Foreword by Hugh Fearnley-Whittingstall.
ISBN 978 1 900322 97 3.  265 mm x 197 mm.  320 pp in full colour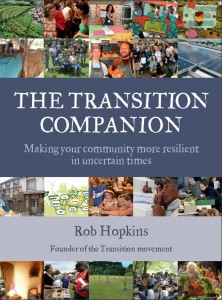 For UK orders:
£25.30

Europe:
£28.00

Rest of World:
£34.50

(All prices include postage & packing)
"I read so many books about peak oil, the state of the world, and environmental degradation that I often glaze over. This one is different. It has authority born from practical experience, a musculature that is immediately engaging, even reassuring. It feels mature. The book is not afraid to catalogue the limitations and failures, even celebrate them, as well as the successes … I applaud Rob and his fellow transitioners for their global experiment and their vision of hope that have awakened so many people. As the old world crumbles, we need to test out new ideas, techniques and technologies. So many are contained here and are reported with the wisdom of experience. This is rich meal for a creative, alternative future".

Maddy Harland, Permaculture Magazine.

"Transition is the most vital social experiment of our times.  The Transition movement has already motivated thousands to begin to adapt their lives to the twin challenge of peak oil and climate change.  Drawing on this collective experience, the Transition Companion offers communities a combination of practical guidance and real vision for the future."

Tim Jackson, author of Prosperity without Growth

"What Rob Hopkins has done—in this book, and with the Transition movement—simply couldn't be more important. We're coming to a powerful crunch time for our civilization, and if you read this you'll be well ahead of the curve in understanding how to prepare your community. There's much beauty here, and hope."

Bill McKibben, author of Eaarth

"There is no more important journey we can undertake than the transition from our current fossil fuel dependency to locally based economic resiliency. This book is the ideal companion for that journey—optimistic yet clear-headed; informed by experience yet playful and encouraging. Hopkins's wisdom, creativity, and gentle humor pervade each captivating page".

Richard Heinberg: Senior Fellow, Post Carbon Institute, author of The End of Growth

"This is the biggest urban brainwave of the century. A visionary, practical blueprint that took root in a town and is circling the globe. This is a book that can change your life; our lives".

Nicholas Crane, writer and broadcaster.

Here, Rob sets out an exciting, much-expanded idea of what Transition is and could become; one that is rich with hard-won insights and practical advice. It's a work full of bold answers, inspirational ideas and daring solutions. Although profoundly serious at heart, it's never  sombre. In fact, it's a great deal of fun, frequently demonstrating how Transition is a highly creative, stimulating and even playful process … The Transition Companion offers an extraordinarily rich yet highly accessible model for drawing together the people around you, and describes the tools needed to start an economic and social renaissance in the place you live. It's a book that is unashamedly ambitious and far-reaching in its scope and vision. But, if we are to successfully navigate what's coming towards us, and hold on to our identity, our  community and our shared optimism for the future, that is exactly what we need.

Hugh Fearnley-Whittingstall, from the foreword.
We are now taking advance orders for 'The Transition Companion'.  Get your hands on a copy hot off the press!  Books ordered now will be shipped on October 13th, 2 weeks before Amazon and other bookshops will have copies.  This is a big book!  320 pages, large format, full colour, beautifully designed, printed on FSC paper.  If you would like your copy signed, email rob (at) transitionculture.org with your order number and what you would like written in the book.  You're going to love it.  Transition initiatives are able to get great discounts for bulk orders.  If you order 35 copies or more, you get a 50% discount!
The Transition Companion draws on over three years' experience of the worldwide Transition movement and gives a new, easily accessible approach to creating change.  It builds on the success of the bestselling The Transition Handbook (over 25,000 copies sold in the UK) and is packed with inspirational stories, photos and illustrations.
In 2008, The Transition Handbook suggested a model for a community-led response to peak oil and climate change. Since then, the Transition idea has gone viral around the world, from Italian villages and Brazilian favelas to universities and London neighbourhoods. In contrast to the ever-worsening stream of information about climate change, the economy and resource depletion, Transition focuses on solutions; on community-scale responses; on meeting new people and having fun.
The Transition Companion picks up the story three years later, drawing from the experience of one of the most fascinating experiments under way in the world today. It tells inspiring tales of communities working for a future where local economies are valued and nurtured, where lower energy use is seen as a benefit, and where enterprise, creativity and the building of resilience have become cornerstones of a new economy.  Here is a short film from the 2011 Transition Network conference of Rob talking about the book:
The Author: Rob Hopkins has created this book through a collaborative process involving thousands of people. He is the co-founder of Transition Town Totnes and of the Transition Network. He is recognised globally for his grassroots work in promoting community resilience in the light of peak oil and climate change. His blog is on www.transitionculture.org.
Key dates around its publication

The book will be officially released on October 27th, but you will be able to pre-order copies from Transition Culture very soon.  Here is an idea of the timeline of events around its release:
Monday September 12th there will be a second webinar through Transition US which will explain more about the book and give you the opportunity to ask any questions you may have about it
The official launch of the book will take place at Totnes Civic Hall on Tuesday October 4th (free, all welcome).
On October 13th I will be doing a 'Twitter Book Launch' (Green Books wanted to call it a 'Twinterview', but you'll be glad to hear I put my foot down) where you will be able to ask questions about the book and from that day people will be able to order advance copies from Transition Culture (times and details to follow)
The official launch date from when it is available in all good bookshops (and Amazon) is October 27th.
The 'ingredients and tools' of Transition that make up much of the book are also being put online in an interactive and very useful format.  A few will go live before the publication date, but the bulk of it will go live at the same time that the book is published (October 27th).  There will be other surprises too, but that's an outline of what to expect….